"The heath application of Apple is the ultimate champ of healthcare hub for fitness trackers."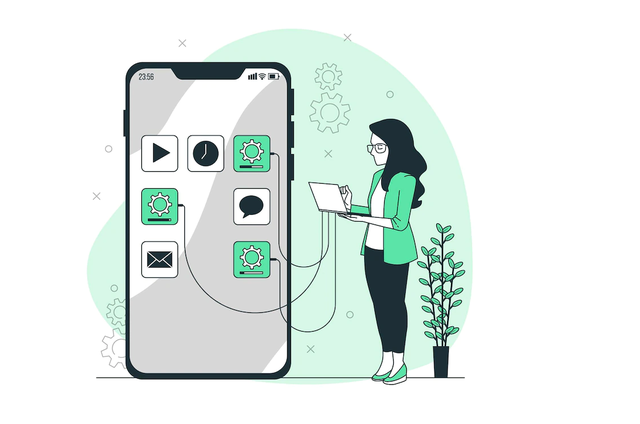 Apple Health App- A Brief Introduction
Instant insight into your health and well-being with the sassiest health and fitness application was introduced by Apple Inc. in 2014. The iOS health application helps you to keep organized in the most comprehensive way for smartphone users to view their health data from different sources and even manage them.
This health care iOS application is based on the concept of the hub for all your health data and information by acting as one centralized accessory. It also takes data from multiple third-party applications and devices like run or step trackers, mental health apps, sleep trackers, food diaries, reproductive health trackers, and others.
Many health accessories sync automatically with the Apple Health application. The Apple healthcare watch is FDA-cleared and has EKG riched features.
The function of a healthcare application lies in these four main categories-
Activity
Nutrition
Sleep
mindfulness
The above-discussed categories are important so that your data is intact and safe. The setting up of Apple health can be a difficult and time taking task. But once it is set, meeting and completing all your health goals is as easy as ever before. Any iOS app development company in India can help you set up the most enticing healthcare application for your target demographic.
Scope & Functions of Apple Health Applications
Now, let's go into the details to know more about the functions of the iOS health applications-
Activity
In health applications, the activity portion is more useful than other categories. When any user opens the application and goes to the activity section or tile, you can find that there are two mini sections of data-
Daily Data
The Apple health application uses the phone's accelerometer to measure the steps and distance traveled by you. As long as the iPhone is there, you can get all the accurate figures as distance traveled. You can avoid using a tracker to get accurate step distance data.
Other detailed metrics like how many calories are burned, how long you are exercising, how often you stand, and so on can be tracked by the Apple Watch.
Snapshot of your entire year
The yearly data are a compressed or rounded-up version of the daily details and reviews. For example- total step distance, exercise minutes, resting energy, active energy, standing hours, and so on. There is an option to view any specific exercise with more specific metrics like cycling distance, running distance, swimming distance, and work out details.
Mindfulness
The 'Mindful Minutes' are a new feature on the Apple Watch that can provide some support. Though, it does not have much to go on regarding mindfulness. You may need to enable the third-party application to get the mindfulness tile. This area is in progress. You can integrate your third-party app with your Apple health app for better results.
Sleep
Sleep is a very important part of being healthy along with stress and weight control management. Sleep can help you release stress, and reduce weight, improve your diet, and so on. A quality sleep routine can help you to meet all your fitness and health goals. You can easily track your sleep with the iOS health application, which has built-in support via the Bedtime feature on the Clock app. During bedtime, it goes to sleep by notifying you. It also has a wake-up alarm to get you out of your bed.
Body Measurements
The health application has many metrics to continue tracking if you enter the right information. Other important metrics are height, body fat percentage, body mass index, lean body mass, waist circumference, and so on. It can track body composition other than the obvious weight loss. You can improve your overall health routine and body composition by manually adding the metrics.
Any third-party application can be integrated with the Apple health app for accuracy. The health app can also keep notes and photos to show your improvements.
Menstruation and Fertility Tracking
The iOS health application has the utility to log all your menstruation cycles with 'Cycle tracking'. This is a standalone app available on the Apple Watch. It is built into the existing Health app. It can also track your fertility cycle from third-party applications and log in all the data. For example, the days you will ovulate, your period cycle, all the symptoms, as well as the ovulation test, cramps, headaches, basal body temperature, etc.
Weight Tracking
The health application also helps you to lose weight by tracking all your food and nutrition intake to meet your weight loss goals. You can track your weight loss progress by tapping on the 'Heath Data' and then going to 'Body Measurements'. Here you can enter your body weight, then your top screen is orange. If you have yet to enter anything, tap on the 'Weight' below 'No Recorded Data'. You can annually enter or just tap the + in the top right and then tap on 'add' to enter the new weight. You view all your weight changes over any period. The data is synced from any connected compatible apps or smart scales.
Nutrition and Food Intake
There are more benefits to tracking everything we consume. This is not a fun process and takes up a lot of time in tracking the singular nutrients such as calcium, iron, and others. The iOS health application can track your food intake down to the milligram for nutrients like sodium, potassium, etc. Though it requires you to input everything, this nutrition tile in your health app is quite beneficial.
You can get a breakdown of all the macronutrients and micronutrients for any time period like day, month, and year. It also can integrate with any application with health or if you can input all the information manually.
Real-Life Application of Apple Health Applications
The iOS health application is not just a measure to keep your health in check but also helps you to prepare for any medical emergencies. They are equipped with your body composition and medical data that can alter your treatments and improve your well-being.
Medical Proficiency
The health application has the power to make you prepare for any medical emergency. It can track your stress levels, steps, heartbeat, pulse rate, etc These metrics are the real-life features that will help you stay prepared and sorted for your medical health.
Fast Importation of all Medical History
The health application of Apple has the fastest route to provide you with all the medical health records with easy access. The Apple Health app allows you to import heath data from a doctor or clinic. This iOS app can pull out records like severe allergies, hospital visits, test results, immunization, etc.
Setting Up Medical ID
The medical ID on the Apple Health Application is the digital version of the medical card that you often come across in the hospitals. They can help you with medical emergencies. Enabling the digital medical id gives access to anyone who needs your medical history. You can tap on 'Emergency' and then go to 'Medical ID' to access all critical information. This feature is disabled by default. However, you do not even need to unlock your phone if you want to enable the medical ID. The Medical ID provides information like age, sex, height, weight, medical conditions, allergies, and medications you are taking.
Conclusion
The healthcare applications have empowered the medical sector in improving individuals' medical status with more refined checking and daily updates. The iOS health application is not so behind in altering the medical proficiency of every user with its edgy technological medical assistance. By choosing iOS app development services in India, one can sort out your queries and provide you with professional help if you want to launch your health application.