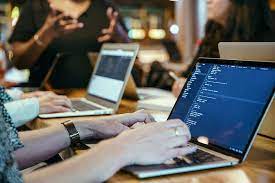 Every day, the importance of the software industry grows. Can you imagine not using the internet, a smartphone app, or any other IT-based application for a single day? It's not possible! The software sector has become an essential component of modern life. As a result, a software business setup in Dubai is a perfect choice these days.
Dubai is an international commercial hub. It offers millions of business chances to investors. Dubai's dynamic economy offers investors a varied range of economic opportunities. Investors seeking success in any field may consider Dubai. Several investors have successfully launched coffee shops.
Moreover, most selling businesses include cosmetics, IT, spices, and clothing. They have a successful economic life. In other words, establishing a business in Dubai is the most acceptable investment option.
Due to its prime location and global accessibility, Dubai has become a center of job possibilities and business. Company formation in Dubai is the ideal alternative for an investor looking to grow his firm. However, establishing a software firm in Dubai might be much more brilliant because "Dubai" and "Software Industry" are the world's rising future.
The following are the fundamental stages to establishing a software business in Dubai:
Select a Trade Name
Choosing a company name with no acronyms or possibly offensive or profane phrases would be advantageous. Second, the name should be motivating and appealing.
Conduct Extensive Business Research.
Before you start any business, you must be thoroughly knowledgeable about it. And it would be advantageous if you were much more cautious about A Software Business Setup in Dubai because the rivalry in this industry is significantly stronger than in any other.
Select Jurisdiction
Most software businesses in Dubai choose to be situated in a free zone, which offers 0% tax and complete commercial control, or on the mainland, which allows you to sell software throughout the UAE and receive government contracts. You should consider carefully and select the best spot for you. The location of your company is quite essential.
This choice of area is an excellent opportunity for investors. You can research all the essential facts and policies of each area. It will aid you in selecting the most suitable site for your business. As a result, you can have a professional start. Secondly, you will not face any difficulty in finding clients. The location of your firm is a vital component of your business.
Open a Corporate Bank Account
Managing financial activities is vital for every firm. Open a corporate bank account for this reason to solve any calculation difficulties. It will assist you in dealing with your tax requirements, payment transparency, and simple currency conversion. Moreover, you will have a record of your money management and all related issues.
A corporate bank account is a solution to your worries. You can keep track of your activities. Moreover, accommodative policies will make your business shine. In other words, this account will act as your business partner to boost your income.
Benefits of Having a Software Business Setup in Dubai
A company setup in Dubai is attractive and straightforward. All you have to do is choose a business activity that piques your interest. Second, choose an appealing company name. Then, to have legal standing, apply for business registration. Finally, choose a jurisdiction from the drop-down menu. Choose the one that best meets your company's requirements. Finally, obtain approval and register your corporation.
The Most Affordable Taxes
Establishing a business in Dubai is a move that no one would ever regret. The Middle East, particularly Dubai, is well-known for having cheap or no taxes. If a company is formed in Dubai, it will have to pay extremely little or no taxes, reducing its financial load. Furthermore, the reduced burden will allow for additional investment in the company. Sales will rise as a result, and the firm will expand.
Furthermore, low taxes are a tool to expand your business. This amount will help your brand to increase the variety of services. Secondly, you can invest well in your firm. Thirdly, you will have significant profits. All these benefits attract investors.
Accessibility
With a Business Setup in Dubai, you have global trading access. As the center of world trade, Dubai permits one to trade globally and reach the top of the business chain. Dubai is the primary choice for investment for investors because of its central position and commerce center. Thus, establishing a software company in Dubai is the wisest option. It will not only protect your money but will also push it to new heights.
Infrastructure and Support
In Dubai, the best infrastructure for a software firm is readily available. All essential amenities include local cloud server facilities, high-speed internet connection, and office space. You will also access a diverse set of partners and support sectors. This strategy can help you with everything from hardware to compliance, legal, and public relations.