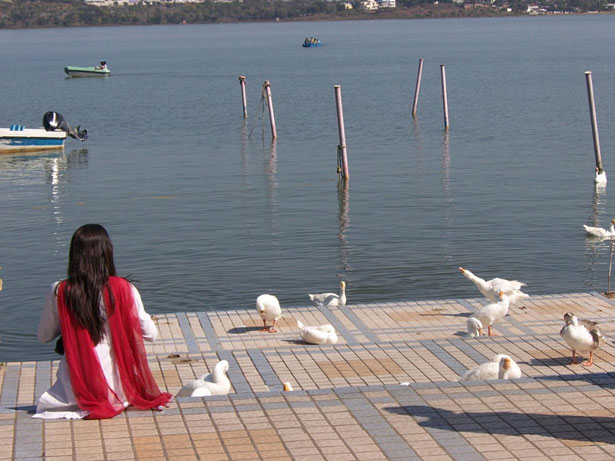 Here's why you should plan your trip to Bhopal –
Bhopal is well known for its historical backdrop, abundant natural beauty, and glorious past. The capital of Madhya Pradesh, Bhopal, is known as the "City of Lakes" and the "Greenest City in India." If you enjoy food, you will adore Bhopal. Take a gastronomical tour of the city and savor the exquisite Mughlai cuisine. As a history enthusiast, you'll be amazed by the almost 30,000-year-old rock paintings found here. Well, the city is a mix of ancient and new architecture and attracts a younger crowd of tourists. Here are some fantastic tourist attractions in Bhopal.
If you're planning a trip to Bhopal and want to see some of the city's most popular attractions, here are a few top places to visit in Bhopal that are worth checking out.
1. Bhimbetka
Bhimbetka, 46 miles from Bhopal, showcases the city's history. Archaeologist Vishnu Wakankar found Bhimbetka caves in 1957-58. The caverns' approximately 15,000-year-old rock paintings are a marvel. They show historical man's lifestyle. The caverns' walls and ceilings are covered with beautiful murals. The paintings span the upper Paleolithic through medieval times. Bhimbetka is excellent for those who adore the past.
2. National Museum of Mankind
The National Museum of Mankind was founded in 1985 as Indira Gandhi Rashtriya Manav Sangrahalaya. Shyamala Hills' 200-acre museum. The well-designed anthropological museum shows human evolution. Tribal Habitat Museum. Learning about indigenous cultures around the country is fascinating. The life-size tribal homes exhibit their distinctive architecture. The museum offers exceptional tribal collections from around the country.
3. State Museum of Madhya Pradesh
National Museum of Mankind and Madhya Pradesh State Museum share a facility. The museum's contemporary edifice is among the country's best. The 16 galleries include coins, sculptures, fossils, and manuscripts from India's history and present.
4. Upper Lake
Upper Lake is the state's oldest and largest lake. The lake's water is said to heal skin ailments. The artificial lake is located in the city's center and features a central island with a boat club having rowing, paddle, and speedboats. The sunset vista is breathtaking.
5. Van Vihar National Park
Van Vihar National Park is home to various birds and animals and covers 445.21 hectares. Tiger, lion, leopard, sambar, and chital live here. The park has 200 bird species. Upper Lake and Shyamala Hills make the forest an ideal habitat for these creatures. Explore the park by foot or bike.
6. Bhojpur Temple
11th-century unfinished temple. The completed temple's sculptures are beautiful. The highest Shiva Linga is here. The 18-foot Shiva Linga, carved from a single rock, is awe-inspiring. Temple on Betwa River.
7. Taj-ul-Masjid
Taj-ul-Masajid is among Asia's most prominent mosques, covering 23312 square feet. 206-foot minarets. Sultan Shah Jahan, Bhopal's Begum, began building, but she did not finish it. Allama Mohammad Imran Khan Nadwi Azhari completed the mosque in 1971. Its imposing scale, pink façade, beautifully carved pillars, and ceilings captivate visitors.
8. Birla Museum
Birla Museum features texts, paintings, and sculptures from the 2nd to 6th centuries BC and AD. Here are Paleolithic and Neolithic implements. 7th-13th-century stone carvings are also on show.
9. Gohar Mahal
Gohar Mahal has the distinction of being constructed by Bhopal's first female monarch. Gohar Begum, the first female monarch, built it in 1820. The palace, situated on the shores of Upper Lake, combines Mughal and Hindu architecture.
10. Raisen Fort
Raisen's 6th-century fort is 45 km from Bhopal. The hilltop fort has palaces, temples, lakes, and ponds. The fort once had 84 lakes and ponds but now has 15. However, this fort is most-visited for Hazrat Peer Fatehullah Shah Baba's shrine. The fort has seen several battles, and Sher Shah Suri was one of the fort's notable rulers.
Bhopal's history and natural beauty captivate visitors. As you explore the city, your fascination grows.
Wherever you travel, there will be a Treebo to host you. We have everything you need for a fantastic stay! Look into hotels in Bhopal.
Experience our warm hospitality in over 100 cities and 800 locations across India.
Complimentary breakfast and WiFi are provided.
Rooms that are safe, clean, and comfortable
Excellent service and high-quality in-room amenities
Low and affordable costs
Early check-in is possible.
Flexible payment gateways
Make your reservation today! You completely deserve that vacation.
HOTELS IN BHOPAL –
The best hotels in Bhopal are Treebo Trend Royal Sun Palace, Treebo Trend Jalsa Dlx, Treebo Trend Mohit Residency, Treebo Trend Saanvi Paradise, Treebo Trend Swastika Inn, Treebo Trend Johri Regency, Treebo Trend Raj Residency, Treebo Trend Hotel Krishna Regency, Treebo Trend Ashirwad, Treebo Trend The Shagun, and Treebo Trend Hotel Taste Of India.